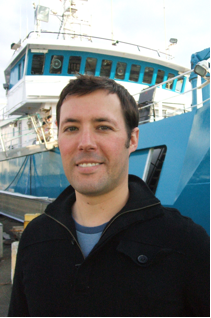 "We are making sure that science and common sense drive the law on fisheries management," says MCA Executive Director Merrick Burden.
Seattle, Washington – Merrick Burden has been named the new Executive Director of the Marine Conservation Alliance. The Juneau and Seattle-based organization, a coalition of seafood processors, harvesters, support industries, coastal communities and CDQ groups that are active in Alaska fisheries, is marking its 10th anniversary with new priorities and initiatives, as well as a new director.
The Alaska-raised Burden comes to the Marine Conservation Alliance from an extensive fisheries background, including time on the water as well as on land, where he worked for the National Marine Fisheries Service and the Pacific Fishery Management Council. Most recently, Burden was the senior fisheries economist for the Environmental Defense Fund.
The new director feels privileged to be heading up the organization; "I'm expecting us to achieve some big things over the next few years," Burden said, "and am looking forward to helping chart a course which enhances MCA's impact in the pursuit of sustainably managed fisheries through the use of science."
Among MCA's current and new priorities are catch share programs, bycatch management, Steller sea lions, habitat, and coastal and marine spatial planning. Merrick will also head up the MCA Foundation which continues to work on marine debris cleanup and cooperative research on important issues including crab tagging, information collection in the scallop fishery, and the intersection between fishery activities and right whales.
Merrick Burden will be based in Seattle with an office at Seattle Fisherman's Terminal